It's nearly summertime, and you may be walking your dog later than usually. It's dark around 8 pm onwards, so ensuring you are seen and safe is still very important even in spring and summer. Not just for us humans but your dogs also. We have put together a few beneficial light-up collars for you below to help you on your winter walks. 
Safe light-up collars for dog
Leuchtie Plus LED Red Dog Collar: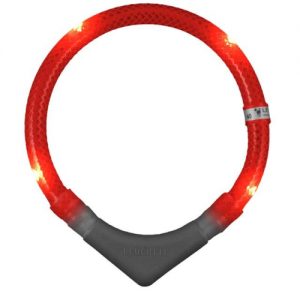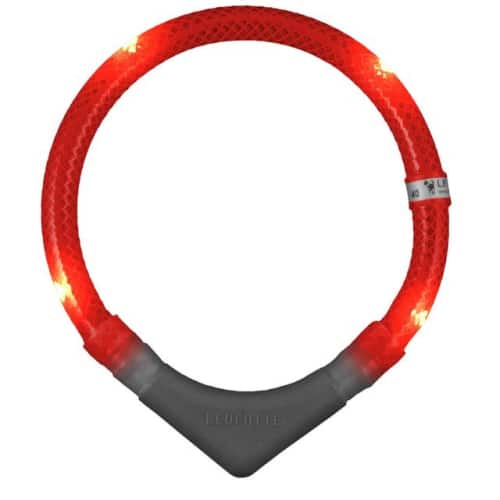 from £25 – £33
The Leuchtie Plus LED Red Dog Collar is a waterproof light-up ring collar. Dog collar comes in 5 different sizes. You will still need a standard collar with no buckles or switches; pop it over your dog's head. Also, available in blue.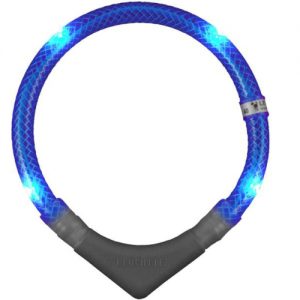 Turning it on and off is a bit of a mystery. It has a unique sensor in the collar that will switch it on and off when you put it on. Yup, it's beyond us! The collar uses AAA batteries.
Make sure you get the right size to measure your dogs head, not your dog's neck. It must be loose around the neck but not too loose that it's dragging on the floor.
Pros 
100% waterproof.
Good range of sizes from 35cm – 60cm
Batteries last for 100hrs
Delivery only £2.99
Cons
Not knowing how to turn it on and off, It just works like magic! not sure if this is a con or not or just us being picky.
Ruffwear The Beacon Dog Tag Safety Light
From £26
The Ruffwear Beacon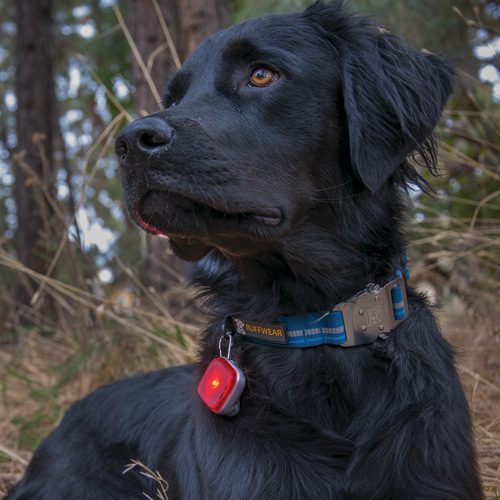 Dog Tag Safety Light is a clip-on LED light made by Ruffwear and mainly made for their collars & jackets. However, as you can see, it's just a loop clip that can fit on any collar that has a loop attached to it.
It's watertight and lightweight, so if your dog likes to get into mischief, this surely will not stand in their way.
Do you walk more than one dog? The problem is solved as it has three different settings, slow flash, fast flash and continuously on. This is a great way to track other dogs and know their every move.
Pros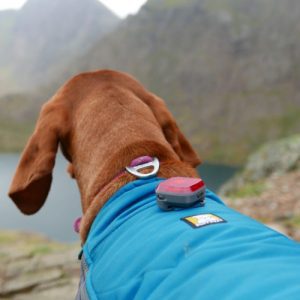 Cons
Canac K9 Lite Safety Flashing Dog Collar
From £5.99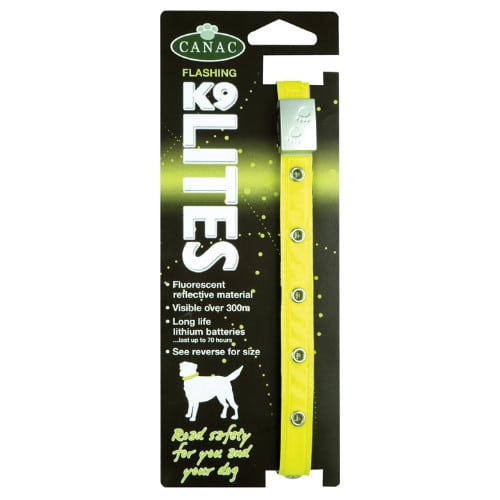 The K9 Lites Safety Collar, ok so it lights up nicely instead of flashes. It has a fluorescent yellow reflective material around it. It kind of looks like a cat collar. If your dog likes to run ahead of you, it has up to 300 metres of visibility. Altho not sure how many dog owners allow their pets to run this distance away from them, perhaps a farm dog.
The collar has two sizes, small and medium.
K9 Lites also states that you should use your regular collar, indicating that it's not that strong. However, it does the job of seeing your dog in the dark; we will give it that.
Pros
300 metres of visibility
Cheap
long-life lithium batteries
Cons
Thin
It looks like a cat collar
It does not replace a standard collar
Dingo Lumitube Light Up Dog Collar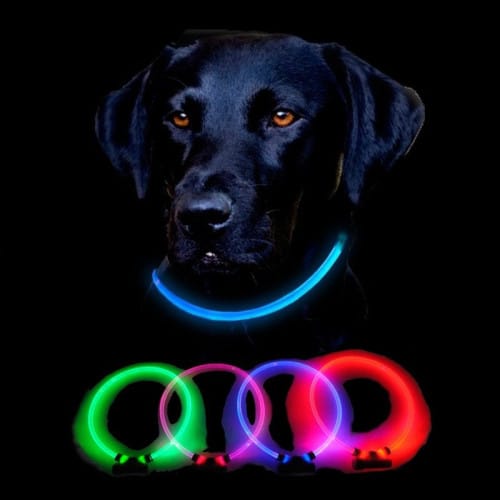 From £17 – £22 
Dingo Lumitube Light Up Dog Collar, I think the picture says it all; he looks delighted with himself. Perfect for outdoor adventure, the collar is waterproof, very lightweight and slips right over the head of your dog. The colours are great, and you have a choice of four. Uses AAA batteries
Measuring your dog to fit the collar
You need to measure the head, not the neck and add an extra 10mm for comfort, so it's not too tight. But don't worry, as you can also cut it to size when it arrives. It comes in two different sizes, 50cm or 80cm. I would suggest ordering the larger size; at least then, you know, you can cut it to size and get the fit just right. It's only a couple of quid more.
Please note this is not a replacement for a dog collar.
Pros
Colourful – four colours to choose from dark blue, red, green and purple
Lightweight
Waterproof
Cons
None found
To be able to see your dog in the dark is extremely important, not just for you but for other people and cars as well. If you're a nighttime walker with your dog, you need one. Dont delay; get one today! Even suitable for early mornings when the sun is not yet up.
Be safe, be seen!