There is nothing quite like a nice long walk with the dog or dogs in some cases. Whether you have just moved to the area or perhaps you have welcomed into your home your very first dog. There are many places to walk a dog in Peterborough, considering its a city there are many hidden little gems. Below is the list of the best locations to walk a dog, but first, let's get to know Peterborough that little bit better.
About Peterborough
Peterborough is a city located in Cambridgeshire, East Anglia. It's very well known for its beautiful Cathedral. Peterborough Cathedral was constructed in the 12th – 13th Century. Before this stood the original building built in 655 AD in the Anglo-Saxon period, it was known as Medeshamstede Abbey. However, It's believed that the Vikings destroyed most of it around 870 AD—making room for Peterborough Cathedral in the 12th Century.
Peterborough has a growing population of around two hundred thousand people.
When the railways' arrival came in the united kingdom and linked cities and towns together at high speeds, Peterborough made its name in the brick manufacturing industry. Brick manufacturing was massive in the 19th Century for Peterborough. However, most of the brick pits have now been replaced with housing estates, like Hampton Hargate, Hampton Vale and Hampton lakes which are still ever-growing. Some of the dog walking trails below are with these very same brick pits.
Peterborough Directions
Let's go through the top dog walking places in Peterborough!
Dog Walking Locations
Ferry Meadows in Nene Park
Ferry Meadows also know as Fedz Meds to the locals, is a safe dog-walking place, with many people religiously flocking here on the weekends in all kinds of weather conditions, rain, snow, spring and sun to enjoy walks with their dogs, and families. Feds Meds is a great chance to socially introduce your dogs to other dogs as you walk around they can sniff a hello at each other.
Located at the entrance is a cafe where you can get a coffee and commence your walk around, it also has a restaurant on the lake's edge, and here you can enjoy a cooked breakfast, lunch or an evening meal. There are two blocks of public toilets located by the entrance and the other by the central park and restaurant.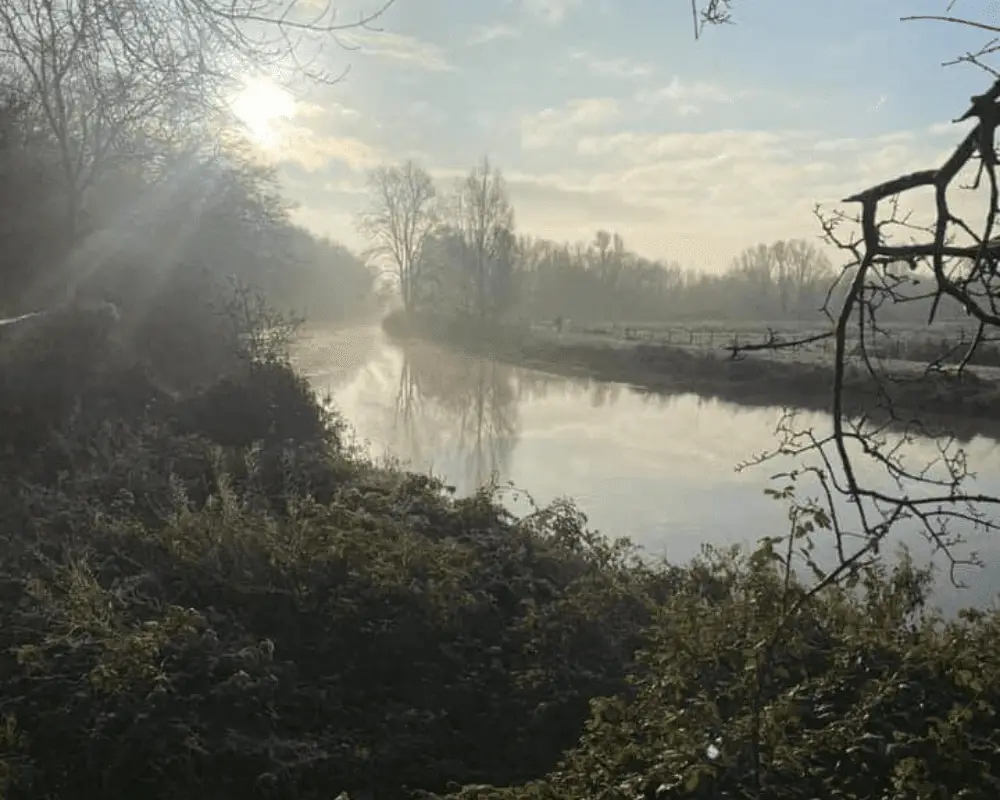 You can either walk all around the lake or take a detour off course to Blue Bell Woods. There is a large playing field, and in the summer, you're allowed to have BBQs and family gatherings. They have entertainment for the kids such as a park, a mini train that takes you from the entrance towards the park and restaurant area.
Crown Lakes
Crown lakes located in Farcet, North of Peterborough is perfect for walking your dog. Generally has fewer people attending here than Feds meds. I think it's mainly because of the lacking of facilities. There are no toilets located here nor any restaurants or parks. Crown Lakes is peaceful and quiet and is a mixture of open area, and small woodlands. Free parking is located at the entrance. You can also join the Peterborough's Green Wheel from here.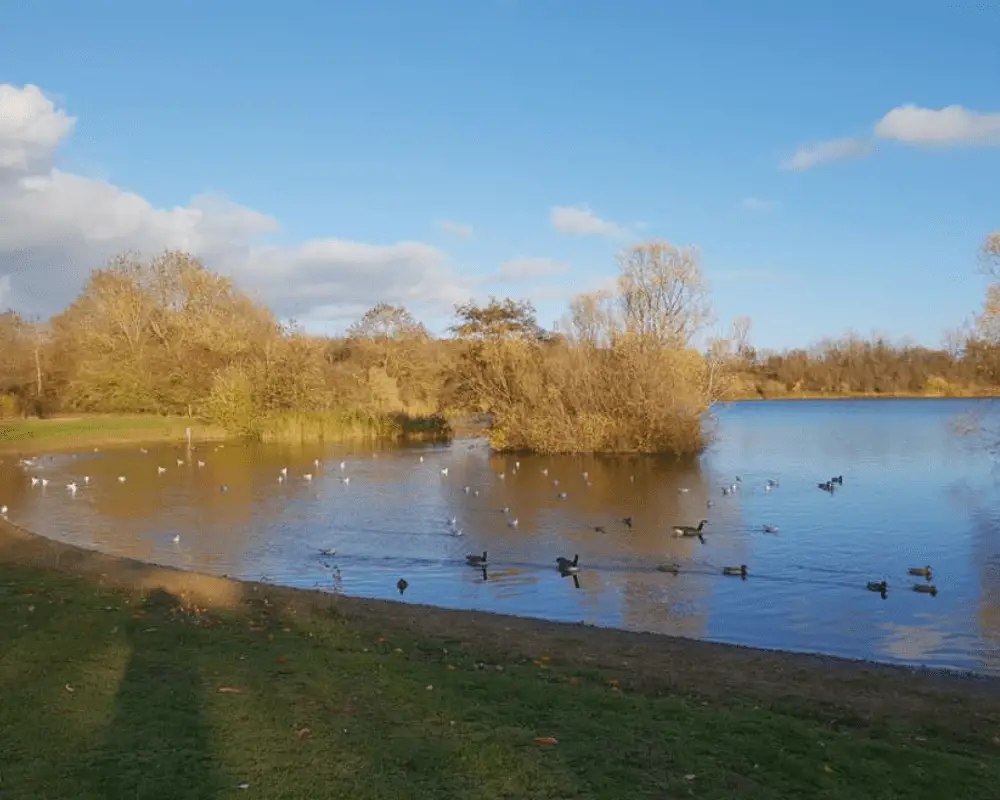 Hampton Lakes and Water
Newly built housing estates in Peterborough the Hampton Lakes and Water has been designed with space in mind. Taking full advantages of the lake pits, they have created many beautiful footpaths that run all the way around, which is perfect for walking the dog. Hampton Lakes and Water are built on one of the many brick pit sites dotted around Peterborough, that it was once famous for back in the 19th Century.
The Green Wheel
The Green Wheel was designed for walking, cycling, and running. The Green Wheel has low traffic-free paths that go all the way around the outside of the city centre. Its long trek by foot at 20.2 miles long. If your walking with your dog, this will take you roughly 7 hrs to complete. Although, might be a little long for most dogs. However, you dont need to complete the whole 20.2 miles you can join it in many places and only complete small sections of your choice. There are signs dotted around everywhere, so you will always know what area of the track you're on. If you head out towards Caster, it has lovely open fields that will take your breath away. In Caster the village, you can grab yourself a delicious coffee from The Coffee House.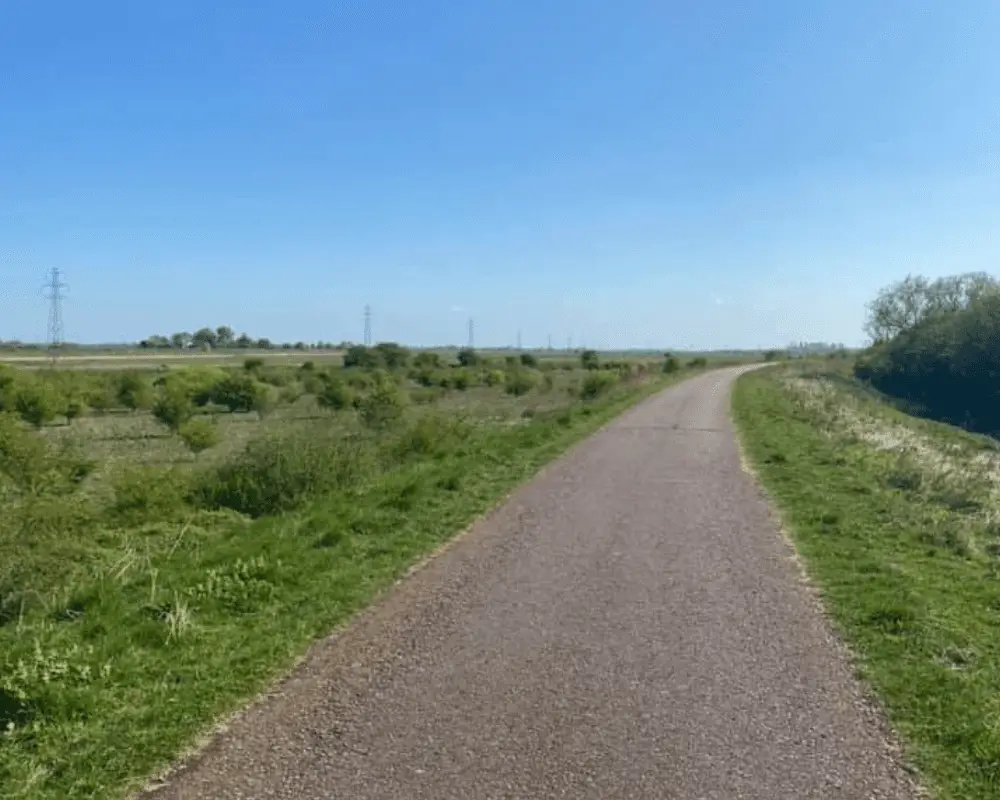 Barnwell Country Park, Oundle
Located in Oundle, Barnwell Country Park is fully dog-friendly and has some beautiful scenic walkways. Here they offer good facilities such as toilets, cafe and fully fenced park area for the children. The walking routes are a combination of open field and woodland. Barnwell Country Park is home to many different wildlife species. You will also find a fishing lake if you're interested in fishing to take your rod. Obviously within fishing season only.
Holme Fen
Holme Fen is an excellent place for you and your dog to explore. See the finest silver birch woodland, and trek through the many paths and little networks throughout. Holme Fen is part of the Great Fen project, which restored two national nature reserves, including Woodwalton Fen. You must keep dogs on the lead at all times, and only stay on the Holme Fen side, as Woodwalkton Fen doesn't allow dogs, this is due to the grazing animals. However, Holme Fen is plenty big enough at 657 acres. Holme Fen is 2.75 metres below sea level and is the lowest point in the whole of Great Britain.
Stanground Woods
Stanground woods is much smaller than some dog walking places in Peterborough. However, you can still have a nice pleasant walk around with the dog on the 15.49 acres of woodland. Stanground Woods is situated on the edge of the fens and is within easy reach of the Green Wheel. If you want to take a detour of the Green Wheel, I suggest coming here, and it's usually tranquil here, which is nice. You will see much wildlife in their proper undisturbed form, full of wildflowers to enjoy.
Conclusion
Hope you get to try out all the above dog walking places in Peterborough, my favourite is Crown Lakes, maybe because it's not far from my house, but also, its usually a little less busy. Fedz Meds is my second favourite especially detouring to Blue Bell Woods. Very early mornings here is beautiful, and it's impressive to watch the steam from the lakes rise whilst enjoying a flask of hot tea. "A flask is needed since the cafe doesn't open that early" Whichever one you pick you won't be disappointed.
Good Luck and Happy Peterborough Dog Walking!