Dog Friendly Holidays & Services!
Find great affordable holiday accommodation & places to eat, or visit with your dog.
What are you interested in?
Explore the very best dog friendly places
HOW WE CAN HELP?
We really do love our four-legged friends. We love being with them, having lots of fun and doing stuff together. Unfortunately, it is a sad fact of life that it is difficult to find places we can visit with our furry friends or dog friendly holiday to enjoy a well-deserved break. We believe that the whole family should get to enjoy the wonderful villages, towns and cities in the UK.
Not sure which places are dog-friendly?
That is the main reason why we have made it our mission to help you and all of our furry friends across the country!. We have listed the most suitable places, accommodation and even restaurants, cottages, that you can visit. We only ever have dog or pet friendly listings and they all include details on how and where you can book them and even the location. You can find some real reviews from dog owners that have visited and left a review from a dog owners point of view.
Favourite Holiday UK Destinations
We have found that there are several top locations that are spread out all over the UK. The Peak District which is surrounded by hills, dales and valleys. Its an absolutely stunning Part of England. You will find picturesque towns and villages dotted throughout. The Lake District which is above The Peak District furthest north out of the two gorgeous British countrysides. You will not be short of beautiful landscapes, wildlife, lakes and mountains. You may even get lucky as its home to the Red deer and Red Squirrel. Plenty of pet-friendly adventures you can take your furry friend on. Devon is another popular location, its located Southeast of England and boasts beautiful sandy beaches. Has quaint seaside towns, pretty ports and harbours along the coastline. Other amazing places to take your furry friend located on the Southwestern tip of Britain like Cornwall. You will find a magnificent coastline with 300 miles of dunes and cliffs, picturesque harbour villages such as Fowey and Falmouth. The UK really does have many wonderful places that you can visit. Norfolk, Wales, Yorkshire or Cotswolds these are just a few awesome places. We even have some special properties listed with built-in gyms, stable or even with a hot tub which is great for those wanting the perfect relaxing getaway.
Never need to leave the dog at home
Fact is that most people love dogs
That is why there are several areas and commercial establishments in the UK that actually welcome them with open arms. Unfortunately, it is not always easy to get the information about them or even realise that they exist. Here at Dog Friendly Scene, we can get rid of this confusion quite easily by giving you the details that you need. We do not just list details about any old place. We list only those places whose owners have contacted us personally or that have been highly recommended by partners and friends. We make sure that they fully dog friendly before listing the place on our site. Therefore, you can rest assured that if you visit that place, your canine companion will be given a warm welcome and not the cold shoulder. We know how important it is to enjoy dog friendly holidays, after all, you been waiting all year for this.
LET'S GO WALKIES
Well, we all know that our furry friends love to go walkies, you only have to say the word for some pooches to get very excited and run rings around the living room. You will find many walking routes around the UK. Amazing dog walks found at The Lake District has several walking routes, The Peak District along with the Cotswolds area. They also have dog-friendly beaches which dogs love to just run about and play in the sea, its a perfect break for them, especially if you live in the city.
ENJOY UK HOLIDAYS WITH YOUR FURRY FRIENDS
The main purpose of Dog Friendly Scene is to help you find dogfriendly holiday homes. Its completely free to browse, comment, review or ask questions. Book with confidence with our partners and find some amazing late deals from award-winning holiday cottages to modern hotels for a city break. We all know that our furry friends love going on trips. However, it is not at all easy to plan out dog friendly holidays. After all, there is a lot that must be considered. We can help in reducing your stress significantly by showing you the best places for pet friendly holidays in the UK. We wouldn't want you to leave your four-legged friend at home, so we have done the hard work for you.
For love of Dogs and Traveling
Dog Friendly Scene was created
Whatever it is your looking for The Dog Friendly Scene can help find the best dog friendly places for you and your dog to visit.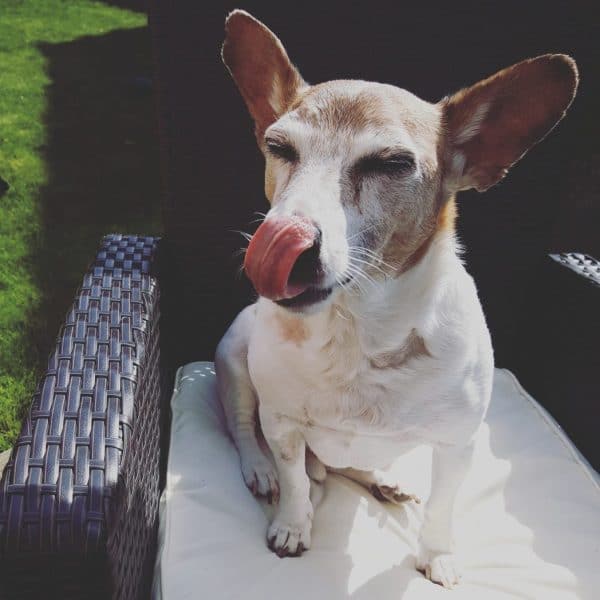 Our very own dog "Pippy" enoying a sit down and a face lick :) read about us and how we got started.
From one dog owner to another dog owner, its great to be a part of the UK dog family holiday scene. We dog owners will love reviews from other dog owners. Come back and add your review.
Best travel places for you and your furry friend
From pet friendly holiday cottages in Devon, to dog friendly hotels in London. Whatever it is we can help you find the best dog friendly places. Come to browse the top dogfriendly beaches to pet friendly cottages with hot tubs, enclosed gardens. Locations include South Wales or the Yorkshire Dales. So many holiday ideas! Sure is something in the UK for every family and their pet to enjoy. If you have a bored doggy, why not take him or her out for a trip to the stunning Peak District, Yorkshire Dales National Park located northern England, Seaside town of Cornwall, how about walk the cliffs of Devon. Or head South West to the Cotswolds. Jump on a ferry to the Isle of Wight. Just get out and about with your dog enjoy your time in the in the UK. They will love the trip and you are going to have a great time on holiday with your dog. All dogs are welcome, we never judge dog breeds.
When you travel with your pet be sure to be organized check your terms and conditions, check-in times and route, along with your booking conditions to avoid any problems. Do you have any pet travel questions or advice? Please contact us or check out our blog for hints, tips when travelling with your pet. With our help I am sure you will find and enjoy pet friendly accommodation.
WANT TO ADD A LISTING WITH US?
Are you a pet service provider who loves having dogs around and welcomes them to your establishment? Do you provide canine services? walking? or perhaps have a grooming salon? Or, Do you run or own a holiday property, perhaps a luxury cottage that you allow pets? Then contact us for ways of getting listed on our site. You will be able to attract more people to your business once you get listed with us.
Check out our Pet Blog!
Browse the latest posts from our blog.