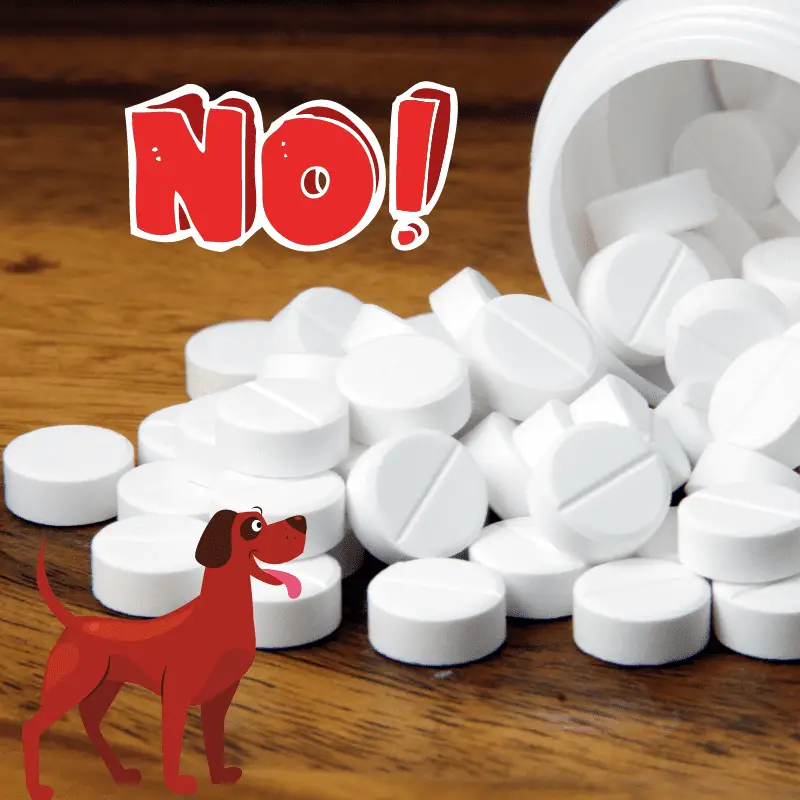 Are you here because maybe your dog is in pain or perhaps you want to educate yourself for future reference? Whatever the reason is, I can answer your question and also explain the reasoning behind it. Because after all, we all want what is best for our beloved dogs. Please don't make a silly mistake that you will regret later. Let's explain! 
Can I give my dog paracetamol? No, never give your dog paracetamol in any form, be it liquid, tablet, or cream. We all know that administrated correctly to humans is okay in the right dose, but to dogs, it is toxic and can also be fatal in high doses.
How to tell if your dog is in pain
Dogs do suffer the same aches and pains as humans, and because they can't speak, it's often is challenging to determine whether they're suffering or not. What makes it even harder, is that built into every dog is to hide the pain as much as they can because it's classed as a weakness. The easiest way to spot any pain is through their character. The behaviour change is the most prominent. Some dogs get depressed, sad or aggressive when they are in pain. Other dogs are slightly more vocal and can be seen excessively grooming themselves. If you can't see the problem and they can't tell you, understanding your dog will help most when diagnosing if they have pain. The most common signs are being depressed, sad and off their food; this usually is a perfect indicator that they are suffering.
Why you shouldn't give your dog paracetamol 
The drug contains acetaminophen, which is highly toxic to dogs. Acetaminophen can effort your dogs liver and cause liver damage in high doses, and it also lowers the oxygen-carrying capacity of the blood, causing tissue damage and organ failure.
What is Acetaminophen?
Acetaminophen is the main compound in paracetamols, and its made for reducing fever and pain in humans. Basically, in humans, it's not a cure for the pain; it just raises the human thresholds to handle the pain.
Paracetamol toxicity in dogs
It can happen within a few hours; your dog will go into a state of depression and start to breathe rapidly. Dogs can also get abdominal pain, nausea, and begin to drool. Gums and surrounding tissue around the eyes will turn blue; this is called Cyanosis. Its the result of a molecule called "methemoglobin" where the red blood cells are not getting enough oxygen to parts of the body resulting in tissue damage. Their wee will be of a darker colour than usual, and blood may be present in it. The face, paws, and limbs will develop fluid buildup. All of this can take 1-4hrs. Young and small dogs face a greater risk from a single dose of acetaminophen given to them mistakenly by their owners.
Paracetamol toxicity signs
Breathing problems

Stomach issues

Vomiting

Becoming withdrawn and dull

Excessive drooling
Conclusion
We have learnt that we should not give our dogs paracetamol as its toxic to dog and can be fatal. We all want what is best for our dogs. If you think your dog needs pain relief please contact your veterinary surgery. I hope that you are reading this before thinking of giving your dog paracetamol and not after. If you believe your do has had paracetamol and even if not displaying any symptoms, please ring your emergency vets ASAP. Time needs to be on your side.
Related
Sharing your food with a dog and the risks involved
About the Author
Teresa loves animals and travelling around the UK! She currently has two dogs and two cats. She loves caring for and sharing her knowledge of pets. Qualified Dog Groomer and currently studying Canine Behaviour. She has been part of the Dog Friendly Team since 2016