As responsible dog owners, we must make the right choices for our pets. See below for some vital information regarding Dettol and its use on and near dogs. 
It would be best if you never used any of the Dettol products range on your dog. The active ingredient is Chloroxylenol and is poisonous to dogs if ingested or comes into contact with your dog's skin or coat. It's hazardous to your dog's health. You should not apply Dettol to any part of your dog.
Dettol
Dettol is a brand of cleaning supplies and disinfectant, introduced by the British company in 1932.
The good thing about Dettol is the excellent transparency of its ingredients. It would be great if they started a Dettol pet range, especially since roughly 45 per cent of the UK homes have some kind of pet, and a whopping 67 per cent of the US households have pets.
Main ingredients
Chloroxylenol IP, Terpineol BP and Absolute Alcohol, 
Hydrogen Peroxide, Benzalkonium Chloride, C9-C11 Pareth 6, Citric Acid, Ethanol, 2-Propoxypropanol.
Diluted Dettol
Do not use even diluted Dettol on a dog. It will still have the toxic ingredients in just a little less, so best to avoid even using diluted Dettol on your dog. It's not worth the potential health risk to your dog. It would be best to use a cleaning solution made for dogs or safe to use on dogs.
Symptoms Of Dettol Poisoning In Dogs
Dehydration
Diarrohea
Drooling
Excessive Thirst
Increased urination
Lethargic
Loss of appetite
Pale Gums
Vomiting
Weakness
If you notice any of the above, call your vet immediately or pet poison helpline.
247 Pet Piosion Helplines
Animal Poison Line – UK: 01202 509 00
Pet Poison Helpline – US: 855 764 7661 or 888 426 4435
Can I clean my house with Dettol if I have a dog?
Yes, you can, but you must keep them away from the cleaned area until fully dry. Dogs coming into contact with Dettol can be dangerous as the substances in the bottle are toxic to dogs.
Dog-Friendly Antipestic Creams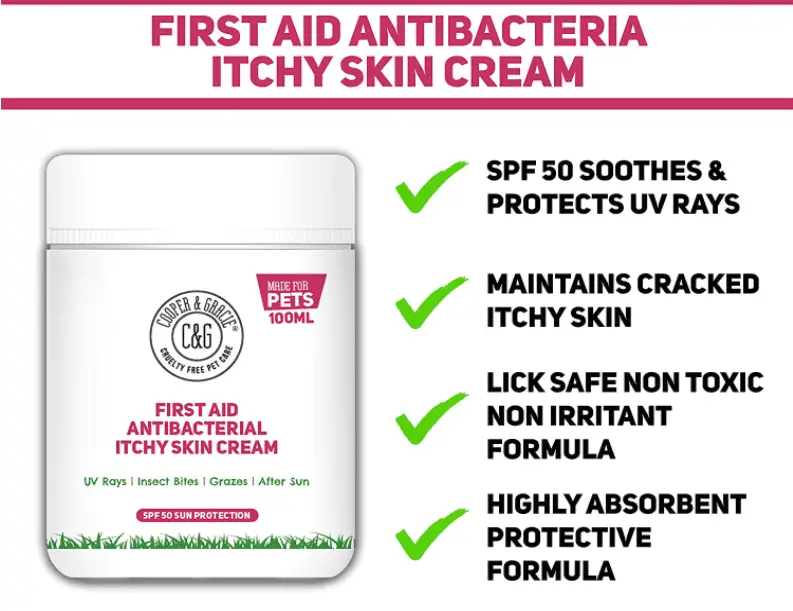 Dog-Friendly Cleaning Products
If you are worried about your dogs and your cleaning products, such as Dettol, you can use dog-friendly cleaning products instead. There are plenty on the market. I use the Better Life safe for pets range. Smells lovely, and I can clean away without worrying about my dog's health. The below are for house cleaning and not to be sprayed onto a dog.
Better Life – Natural All-Purpose Cleaner, Safe For Pets
Method – Anti-Bac All Purpose Cleaner Safe For Pets
Best Ways To Clean A Smelly Dog
I have written a previous post that will interest you to eliminate that dreaded wet dog smell. You can find it here! Understand what's normal and what's not. 
Bath your dog regularly or take them to the groomers
Brush your dog to get rid of any dead hairs that harbour bad smells. (best brush to use depends on which breed of dog you have) see below best-suited brushes for each coat type.
Wash the dog bedding often.
Different Coat Types And Brushes For Removing Dead Smelly Dog Hairs
Curly hair:  Slicker Brush
Double Coated: Rake, Bristle Brush
Long hair: Large Pin Brush
Smooth Hair: Rubber Curry Brush
Silky Hair: Bristle Brush
Wired Hair: Pin Brush
If your dog coat is matted, try using a wide-tooth comb first to break up the knot. If that doesn't work, you can try a de-matting comb. In some cases, you may also need to use the clippers to remove the tangle altogether. Then keep up with daily brushing utilising the type of brushes above, depending on coat type. Having a good grooming routine will help with any unwanted dog smells.
My smooth coated Jack Russell loves a good brush, and I use the rubber curry brush on him. The good thing about short smooth-coated dogs is it's impossible to get any tangles in the fur.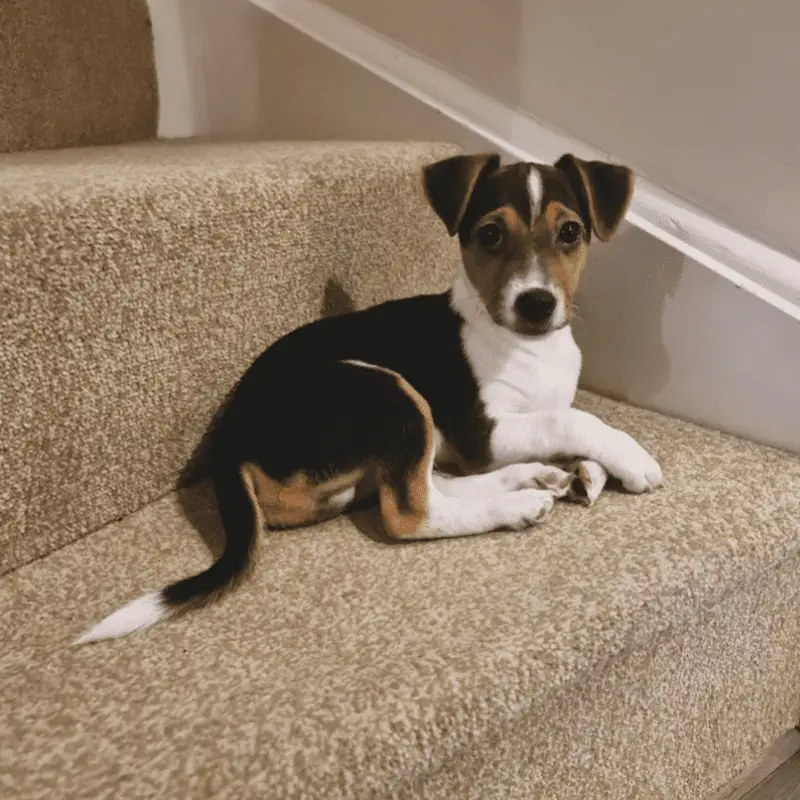 Conclusion 
Only ever use products made or safe for dogs. With all the above help, you can safely eliminate dog odour and clean the house without using toxic substances like Dettol. That way, you can't do any harm to your dog's health and end up with expensive vet bills.
Good Luck!