Is your dog scratching all the time, or has your dog got a minor injury? If so, let's determine if the Germolene antiseptic cream is okay for your dog. It would be best to consider many aspects before rubbing in the Germolene. The below will help you understand your dog and whether or not you should use Germolene. It's the same as Sudocrem, and it carries its risks. Read on to find out more about using Germolene on your dog.
Germolene is safe for dogs if applied appropriately and for short-term use. You must be watchful if your dog chews or licks itself because some of the ingredients in Germolene are not safe for consumption. It would be best to use an alternative cream specifically for dogs for long-term use.
Let us run through the best practices of using Germolene on dogs.
What is Germolene?
A British-American pharmaceutical inventor, Sir William Henry Veno, invented Germolene in 1925. Germolene is a mild local anaesthetic, and it soothes the area when applied whilst also preventing further infection and has healing powers. It's classed as a dual-action antiseptic cream. There are many benefits to us humans using Germolene. It's great for minor cuts and grazes, minor burns, scalds and blisters, stings and insect bites, spots and chapped or rough skin.
Germolene is a long-standing all-around good product, and I think everyone in the UK has a tube of it in their medicine cabinet. But what about using it on our dogs? It's not made specifically for dogs, but it works wonders; however, it carries some risks, and you will need to understand how to apply it and where to; let's run through it.
Never use Germolene in or around your dogs:
Eyes "In and around"
Mouth
Nose
Inside Ears
You can use Germolene safely on your dogs:
Base of tail
Tail
Legs
Paws
Neck
Head
Back
Belly
Bum
Outside of ears
Around the genitals
The amount to use
To properly apply the antiseptic cream, limit it to the specified areas. Use a small amount and gently massage it unless your dog is experiencing discomfort, then dab it on instead. Avoid overusing the cream, as this may attract your dog's attention and lead them to lick it off.
If you have an Elizabethan collar, use it to prevent licking or chewing the affected area. After application, your dog may become slightly greasy from the cream; placing them in their clean bed will protect your furniture. Once absorbed into the skin, you can remove the Elizabethan collar as needed.
Perfect for
Cat scratches
Flea bites
Over itching
Paw sores
Paw minor cuts
When to apply Germolene
Apply it to a clean wound only, with the correct amount. Never apply it at night, as you need to keep an eye on them; if they start to lick the Germolene off or are allergic to the cream, you will need to be around. Do not use Germolene as a long-term solution. Too much will cause other problems for your dog if used too frequently.
Designed Specifically for Dogs, Worry-Free and Safe
RenaSan First Aid+ Spray is a revolutionary antiseptic clinically proven to kill 99.9999% of germs in seconds. Approved for veterinary use worldwide, this pain-free, sting-free and skin-friendly spray contains only water, salt and hypochlorous – no sodium hypochlorite (bleach), preservatives, alcohol or nasty chemicals.
RenaSan is safe to use in and around the mouth, ears, nose and paws of pets and animals, as well as for skin, eye and ear disinfection, on insect bites and for hard and soft surface sanitation.
Produced by the world leader in Hypochlorous technology, you can trust RenaSan to give you the safest, most effective and most stable Hypochlorous on the market.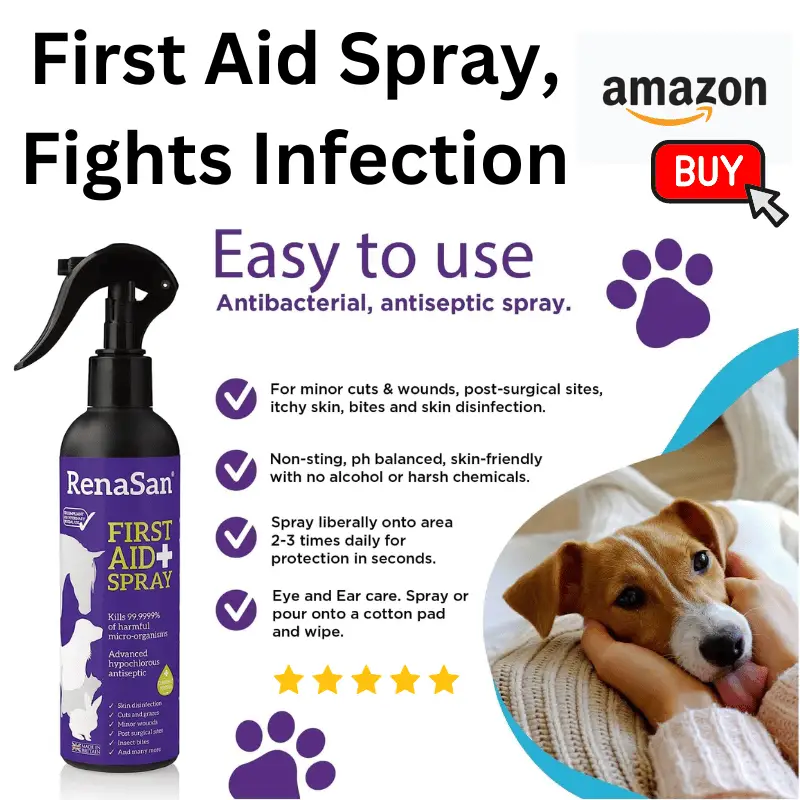 As an Amazon Services LLC Associates Program member, we earn fees by linking to Amazon.com and its affiliated sites. By clicking on and/or purchasing products through our links, you may provide us with a small commission at no additional cost to you. We only suggest items we believe and think you will enjoy. Thank you for your continued support!
What's in Germolene antiseptic healing cream?
Below are some of the ingredients in Germolene and why you must not let your dog lick the cream or use it long-term on your dog. Consider eventually getting an alternative cream made for dogs. That is lick-safe and entirely safe for long-term use.
Chlorhexidine Digluconate
Chlorhexidine Digluconate is found in Germolene and acts as a disinfectant and antiseptic. It's used widely used in the medical industry and, in its natural form, is used as a steriliser of medical instruments. Chlorhexidine Digluconate, when consumed by your dog, can be toxic. However, following the above advice, if you use Germolene correctly, it's okay for your dog to be a short-term solution. This is why it's important not to let your dog lick the area of concern after applying the cream.
Cetostearyl Alcohol
Cetostearyl Alcohol is considered safe for application on the skin and hair. It's less drying than other alcohol-type ingredients.
Light Liquid Paraffin
Light Liquid Paraffin is a highly refined mineral oil well-used in the cosmetics and medical industries. Liquid paraffin differs from paraffin; this fuel is often confused with Liquid paraffin. Light Liquid Paraffin is considered safe and is a low toxicity risk.
Phenol
Phenol acts as a mild local anaesthetic in the cream and is toxic to your dog if ingested. As stated above, you should not use it in or around your dog's eyes. If it comes into contact with your dog's eyes, it can make them sore. Contact a veterinarian straight away in the event of this happening.
Dimethicone
Dimethicone is found in Germolene, an ingredient that softens and moisturises the skin. Dimethicone also helps reduce the skin from flaking and itching.
Signs of Germolene toxicosis
Weakness
Anaemia
Diarrhoea
Vomiting
Lethargy
Weight loss
Conclusion
I hope I have answered your questions on Germolene and given you an insight into the possible dangers to be aware of and ways to keep your dog safe. Germolene is okay for dogs and is well-used by several dog owners. However, I recommend the long-term use of antiseptic cream for dogs; it saves you unnecessary worrying. However, in the meantime, use Germolene or Sudocrem if your dog is sore. Learn about Sudocrem, as it carries similar risks but is also safe for short-term use on a dog.
Happy dog parenting!