The perfect complement to your roast turkey, sage and onion stuffing is a great way to inject some extra flavour into your usual Sunday roast or Christmas dinner. If you're wondering if your dog can eat this too, the below can help you find the answer.
Dogs should not eat sage and onion stuffing because it has a toxic member of the allium family called onion. Onion is very harmful to dogs and can cause them to become anaemic. You should keep any food with onions away from your dog, or they might get sick.
Other Allium Family Foods
Chives
Garlic
Leeks
Onions
Scallions
Shallots
Why Are Onions So Toxic To Dogs?
Onions have a compound called N-propyl disulfide in them, and this is what causes anaemia in dogs. The toxin attaches to the red cells and damages them. These cells are vital for oxygen distribution around a dog's body.
Recommended Read: Allium Family Foods And Dogs
Onion Toxicity Symptoms
Some of the symptoms of onion toxicity include abdominal pain diarrhoea. Other signs are increased thirst or panting, a lack of appetite for food, pale gums (the inside lining on your dog's teeth), weakness, fainting, drooling, reddish urine, or vomiting!
While the symptoms may stop after a while, it may take up to seven days after consuming onion for anaemia to take hold. By this time, it could be too late! If you know that your dog has eaten onion, you must contact your veterinarian. 
Veterinarian help includes any items listed above from the allium food list.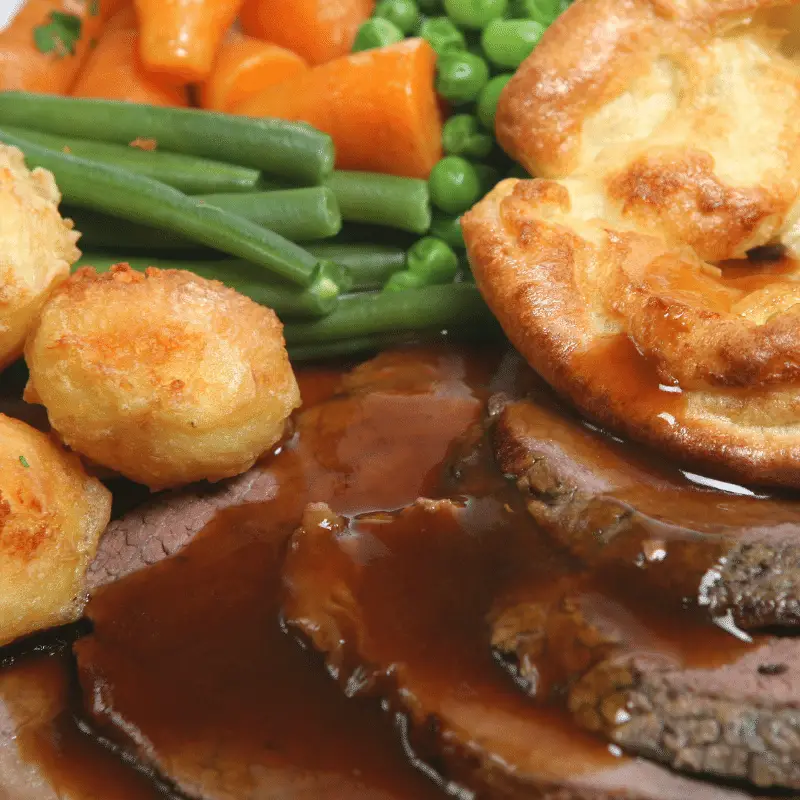 Here are some alternatives for your dog to eat when you have a roast dinner
Broccoli
Green Beans
Mashed Swede
Peas
Spinach
Sweat Potato
Turkey
Apple Sauce (not all varieties/brands)
Things not to feed your dog from a roast dinner
Bread Sauce
Cauliflower Cheese
Cheese Sauce
Chutney
Crackling
Cranberry Sauce
Fatty Meats
Gravy
Mint Sauce
Nut Roast
Roast Ham
Roast potatoes
Smoked Salmon
Stuffing
Yorkshire Pudding
Making The Right Choices
If you choose to treat your dog to a little something of the food alternative list, please note that you must not add any herbs, spices, glazes, oil, or salt as these are not healthy. The food must be plain and in moderation.
Good Rule To Follow When Treating Your Dog 
Keep it plain 
Avoid anything processed
Serve in moderation only
Things You Need To Know (Warning)
Many of us add extra salt to our dinners, but did you know that adding salt into a dog's diet can make them sick?
Salt can make your dog dehydrated. It can also make them have high blood pressure or give them a rapid heartbeat or seizures, especially in puppies, older dogs and dogs with underlining health issues. So, when treating a dog to extras from your plate, make sure it has no added salt.
Conclusion
It may seem unclear what to feed and what not to feed your dog. If you follow my dog food advice, your dog will be healthy and live a long time! Try not to provide them anything from the allium family foods. Avoid processed foods, such as cured, dried, or smoked. It would be best to remember extras in only moderation when sharing food.